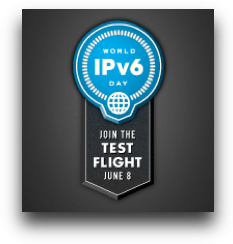 Just in time for World IPv6 Day, I'm pleased to note that Code.DanYork.com is now available over IPv6!
This site runs on WordPress and while WordPress itself works fine with IPv6, the trick was to find a web hosting provider that provided solid IPv6 connectivity.
After much investigation, I finally set up a basic web hosting account with Hurricane Electric. They've been in a leader in IPv6 deployment and have great interconnections to other IPv6 networks. They are also the folks behind Tunnelbroker.net, the free service I use to get IPv6 connectivity into my home office (using a setup for IPv6 with an Apple TimeCapsule that I described in another blog post).
I had this site hosted at another webhost, but through the sheer beauty of WordPress's export and import features I was able to move the entire contents of the site over to Hurricane Electric without any problem.
For those curious, I'm running the site in WordPress' Multisite mode as I'm planning to move more of my sites over to HE's hosting. I'm using the Domain Mapping plugin to let me map different domains to different blogs. It's all working wonderfully.
Now, unlike Google and Facebook, I'm not removing the IPv6 connectivity for this site after the 24 hours of World IPv6 Day are up. This site is live with IPv6 and will stay set up with IPv6 for the foreseeable future. (But having said that, I have nowhere even remotely near the visitors of the larger sites… and I have the luxury of not having to deal with large numbers of people who may have challenges connecting to my site.)
Welcome to the new IPv6 Internet!
P.S. If you want to learn more about IPv6, and in particular IPv6 and VoIP/SIP, you can visit the IPv6 Resource Page I put together over on Voxeo's site. I've got some HOWTOs, tutorials, videos, links and more…
---
As an aside, over on the right navigation bar you'll see a little "IPv6 detector" box that will show you either your IPv6 address or your IPv4 address (and yes, I blacked my actual address out in the screenshot because I'm just naturally paranoid):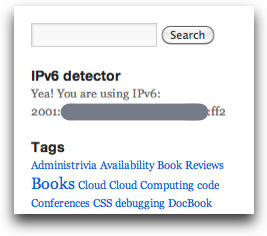 I'm using the "IPv6 detector" plugin for WordPress by Andres Altamirano, although I did alter it a bit. I shortened the text that was printed for an IPv6 address so that it would fit in my theme's sidebar. I also removed the URL link and removed the extra links about IPv4 exhaustion.
Installation was a snap, though… I just installed it into WordPress and then went to the Widgets area of my theme and dragged it into the location where I wanted it.