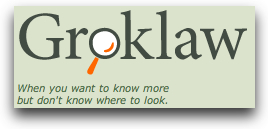 And so must all good things come to an end… Pamela Jones announced over the weekend that she would be ending new posts to Groklaw on May 16, 2011, the eighth anniversary of the site.
For those of us who spent a good bit of time in the Linux world, Groklaw became a critical resource to stay up on the latest follies in the ongoing SCO lawsuit. "PJ", as Pamela Jones preferred to be called, and the community of passionate helpers she soon attracted were there to rapidly research and debunk any claims that SCO put forward.
SCO has faded to pretty much irrelevance in 2011… but 8 years ago their lawsuit was extremely serious and a cause for great concern for anyone working with Linux. At the time of the initial lawsuit, I was a product manager at Mitel for a Linux-based product, so the whole issue was very definitely something I paid attention to… and Groklaw was definitely on my frequent reading list.
[NOTE: If you have never heard of Groklaw, I would start with the mission statement and the various links off that page.]
And now PJ writes:
In a simple sentence, the reason is this: the crisis SCO initiated over Linux is over, and Linux won. SCO as we knew it is no more.

There will be other battles, and there already are, because the same people that propped SCO up are still going to try to destroy Linux, but the battlefield has shifted, and I don't feel Groklaw is needed in the new battlefield the way it was in the SCO v. Linux wars.

Remember that when I started Groklaw, I had no intention to create something as huge as Groklaw became. I really was just trying to learn how to blog. When all of you showed up, I saw what we could accomplish together, and we did. But to do it, I had to set aside a lot of things that are important to me too. I'd like to go back to being nobody, just living a normal life again.

I kept going all these years because when SCO attacked in the media and in the courtrooms, there was nobody to do what we did. Only the community could have answered SCO, technically, because you guys lived the history of UNIX and Linux and you knew what they were saying was not true. So we spoke up and explained over and over until everyone understood.
And she ends with:
I always told you that I didn't do Groklaw for money or for fame or as a career move. I did it to be effective. That's all I wanted. And I told you that when it was over, I'd go back to my normal pre-Groklaw life. And now you know by this decision that I told you the truth.

No matter what happens next, I know that we changed the course of history. How many people get to say that? I never expected it, frankly, and I am grinning just thinking about how much fun we've had doing it. Our work will be available for historians permanently, so the impact we had isn't over today, and someday we'll tell our grandkids that we were part of this, part of Groklaw. We are in the history books. Our work will continue as long as anyone cares about this unique time period in the history of computer software, a history that we are a part of forever. And that is a long, long time.
Thanks to you, PJ, for all the insane amount of work that you and your community did and continued to do. We all out in the larger community owe you all an incredible amount of gratitude and thanks… you helped shine the light into dark corners and helped provide a means to focus the energy and passion of the greater community. Without all that Groklaw did, the SCO follies might have gone much differently.
And kudos to you, PJ, for what I'm sure is an incredibly hard decision to put a period at the end of the sentence and end the era of Groklaw. It's super easy to simply let a project continue… there is a certain inertia that is hard to fight… and so projects and organizations continue to go on and on, even when their reason for being is no longer there.
Thank you for all you and your community did – and best wishes for whatever comes next!
P.S. Her full blog post is very much worth a read… as well as the many comments.