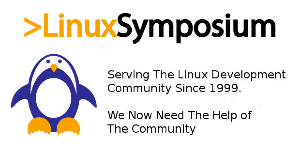 If you have ever used the Linux operating system, could you please help out the Ottawa Linux Symposium (OLS)? For many years OLS has been one of the key events that has helped bring together people from all across the Linux community, and the connections made at OLS have helped to make the Linux operating system that much more powerful and useful. But… as organizer Andrew Hutton recounts on the OLS Indiegogo page, the event has fallen in a bit of a financial crunch and it is now not clear if there will be an OLS in 2015… or ever again.
Could you spare $10? $25? or even $50 or $100? (Or more?)
If so, please help fund OLS on the IndieGogo page!
I first attended OLS back in the early 2000s when I was living right there in Ottawa and working for first a startup called e-smith and then subsequently Mitel Networks. In looking at my list of presentations I can see that I spoke there several times… and the topics I covered take me back to a much different time:
2004 OLS – Tutorial: Introduction to OpenPGP, GnuPG and the Web of Trust
2002 OLS – Tutorial – Single Source Publishing Using DocBook XML
2001 OLS – Maximizing Your Use of CVS
I still remember OLS as the incredibly passionate place where people connected…. and where I made so many connections and learned an amazing amount about Linux.
If OLS was ever important to you… or if Linux has been important to you… please consider donating to help the OLS organization get out of its financial hole and get moving ahead in future years. Organizer Andrew Hutton has poured his heart and soul – and personal money – into making OLS the incredible event it has been… now it would be great if we all can help him! Please consider donating!
Here are a few other viewpoints on the importance of OLS:
Please do donate if you can! THANK YOU!